Smoking and the corona virus (COVID-19)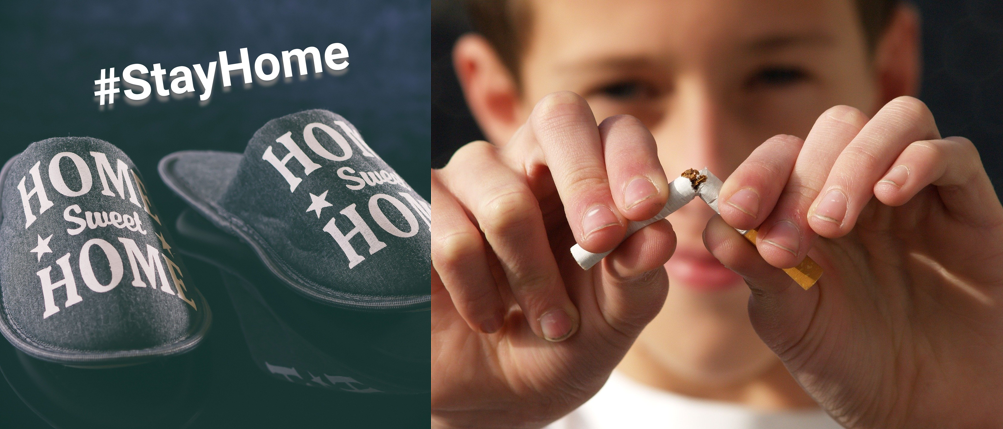 "...The risk of getting infected can decrease by quitting..."
The new corona virus, which spreads by droplet infection, through getting into contact with infected saliva, causes severe respiratory infection in the vulnerable. Besides known risk factors such as age above 65 years and the existence of chronic diseases, several studies have been investigating the impact of smoking. Most of these studies have revealed that smoking may have a negative impact on the course of disease when contracting COVID-19, and lighting and smoking a cigarette has been shown to play a role in transmitting the virus from hand to mouth.
Why can this virus be more dangerous for smokers?
Several factors may be in the background. Inhalation of cigarette smoke damages the airways, and the lungs, triggering inflammatory processes. Cigarette smoke inhibits proper functioning of ciliary epithelial cells in the airways, thereby, it hinders the clearing of airways and impairs protective mechanisms. Consequently, lung capacity decreases and due to carbon-monoxide the oxygenation of tissues and organs is also reduced. A damaged lung is more susceptible to infections.
Smoking impairs the immune system as well, thus it has an effect on how adequately the body is able to respond to infections: smokers are more vulnerable to infections and may develop more severe symptoms when getting infected.
Smokers are more likely to develop chronic pulmonary disease (e.g. COPD), cardiovascular diseases (e.g. hypertension), diabetes and cancers that all impose a greater risk when infected with the new corona virus.
How can we reduce the risk of getting infected in the case of smokers?
General rules apply even more strictly to smokers (keeping hygiene rules, staying at home, social distancing) and may help prevent getting infected.
When smoking, it is of vital importance to keep social distancing and to avoid smoking in the company of others. The same applies to those smoking waterpipes.
The situation caused by the pandemic has caused many changes in our daily lives and thus has resulted in a lot of stress for most of us: our work environment and daily routine have changed, many of us have lost their workplaces, we have been increasingly worried about our loved ones, about our own health and future. Increasing the amount of cigarettes we go through a day in an attempt to try to fight stress is the worst possible solution, thus smokers should consciously try to avoid it and choose other stress release strategies instead (e.g. physical exercise , relaxation, taking up an old hobby again.). It is important to pay increased attention to our loved ones and those around us as isolation or spending more time together during lockdown may increase exposure to passive smoking as well, therefore, those that share a household with a smoker may be at increased risk.
What can smokers do to protect their health? If the time is right and a smoker decides to devote the time and energy quitting smoking is still the best option. The longer the time since the last cigarette the more the benefits a smoker will start to experience. Quitting is not easy, many only succeed after several attempts. The process however, can be more successful and much easier and with a supporting environment. Bans introduced due to the pandemic and changes in our everyday environment have posed tremendous challenges upon all of us but creativity, reconsidering priorities and a conscious attention to our mental health can help us cope with the situation more easily. The current situation could eventually prove beneficial if we consciously start to avoid situations that would urge us to light up or if we find and establish new habits that do not involve smoking.
Why is it advisable to try to quit smoking now amidst the pandemic?
Quitting smoking is always a highly advisable thing to do. Now, during the corona virus pandemic it is even more important:
- The risk of getting infected can be significantly reduced by quitting smoking as the repeated movement, the fingers holding the cigarette touching the mouth, is cut off.
- After quitting, a former smoker is more likely to fight against the infection more competently as oxygen levels normalise quite soon after smoking the last cigarette, the clearing of the airways starts and lungs start to regenerate. Quitting smoking has positive effects on the cardiovascular system as well which become more and more pronounced as time passes. These positive changes can help people recover and fight the infection better.
Where can we find more information and further details?
During the pandemic, information in connection with quitting smoking is available via the internet, phone or through a mobile application, individual or group counselling in person is currently not available.
The following webpages provide useful information and advice about smoking, addiction and quitting: https://www.leteszemacigit.hu/ , http://www.leszokastamogatas.hu/ .
Telephone counselling for quitting smoking is provided by trained experts. This programme is available free of charge from everywhere in Hungary for those willing to quit. The counselling service takes 6 weeks according to a prearranged schedule. If interested, contact: 06-80-44-20-44 .
The mobile application called: "Gond? Egy szál se" designed to facilitate quitting smoking can also provide useful advice for potential quitters . [EB1] .
Sources:
World Health Organization. Q&A on smoking and COVID-19, 24 March 2020. https://www.who.int/news-room/q-a-detail/q-a-on-smoking-and-covid-19, Retrieved: 2020.04.14.
World Health Organization. Tobacco and waterpipe use increases the risk of suffering from COVID-19, http://www.emro.who.int/tfi/know-the-truth/tobacco-and-waterpipe-users-are-at-increased-risk-of-covid-19-infection.html Retrieved: 2020.04.14.
Centers for Disease Control and Prevention. Coronavirus Disease 2019 (COVID-19). Who Is At Higher Risk For Serious Illness From Covid-19? https://www.cdc.gov/coronavirus/2019-ncov/faq.html#How-to-Protect-Yourself Retrieved: 2020.04.14.
Bundeszentrale für gesundheitliche Aufklärung. Rauchen und das neuartige Coronavirus, https://www.rauchfrei-info.de/informieren/rauchen-gesundheit/corona/ Retrieved: 2020.04.12.
Vardavas CI, Nikitara K. COVID-19 and smoking: A systematic review of the evidence. Tob Induc Dis. 2020 Mar 20;18:20. doi: 10.18332/tid/119324.
[EB1] Online consultation is offered within Yourlife programme of the Medical School, UP
Dr. Erika Balogh, assistant lecturer