Fit and Healthy as a student!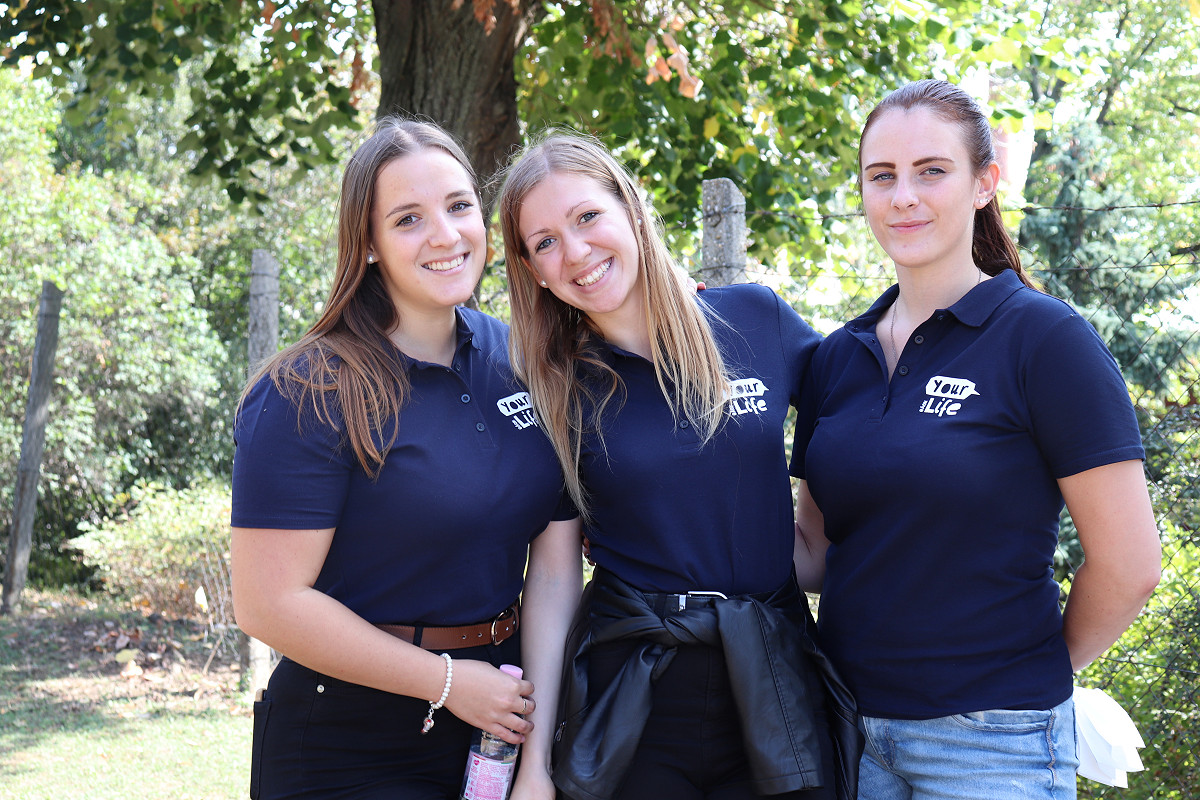 Let us introduce 'YourLife' programme
What are the aims of YourLife programme?
Our programme called YourLife@ÁOK is the initiative of the Medical School, University of Pécs with the aim to promote and facilitate health lifestyle among students and staff. Besides organising various events and providing a variety of services our goal is to ensure that health as an important value shall be considered and shall form an integral part of every educational, management and decision making process at our university.
Events, programmes, traditions

Meal prep workshops with healthy meals in focus
Our dietician colleague has been offering monthly meal prep workshops where you can learn to prepare delicious, healthy meals from healthy ingredients. Workshops are free for all UP students and staff, ingredients and the venue are provided by the Faculty. Prior registration is required.
Waterchallenge
In June 2019, upon announcing a 21-day Waterchallenge, 9 water dispensers were placed at varios points in the main building of the Faculty. The first 200 registered volunteers, that accepted and completed the challenge of drinking water (and only water J) for 21 days, won a handy YourLife water bottle.
I. Staff Sport and Health Day
On the Staff Sport and Health Day, 28th September 2019, participants had the opportunity to try several different indoor and outdoor sports including: a family run, yoga, zumba, NMPT, spine gymnastics, martial arts, archery, frizbee and aquafitness, and taste a variety of healthy foods. Volunteer students offered free, simple screening tests and advice for those interested.
Faculty Stair Running Event
Stair running in costumes??? Believe it or not… J on 19. February 2020 you witnessed Spiderman Elephant, Scrambled egg and many others running up the stairs all the way to the top floor. Not only students but colleagues from several institutes took part in this challenge too. We all had a great time and wish to organise it again.
I. Online Sport and Health Day
Exercising at home? Why not? Our first online Sport Day on 23rd May 2020 was a huge success. Participants could try several different forms of exercise (zumba, Pilates, yoga, stretching, cardio and strength training) they could also consult our physiotherapist and dietician colleagues or prepare a healthy dessert.
You could join the event via Zoom or Facebook Live Stream.
Fruit days, cereal days
During the past academic year we offered fresh fruit and cereals to students and staff once every month at our stand in front of the mosaic on the first floor. Depending on the current situation we plan to continue and offer even more... ;)
About us

Most of our colleagues work at the Department of Public Health Medicine, Medical School, University of Pécs having expertise and experience in various different fields (e.g. consultant physician, dietician, physiotherapist). It is of pivotal importance for our Faculty, the Dean's Leadership and the Dean's Office to provide a healthy work environment for students and staff alike. The health programme initiated and organised by the Department of Public Health Medicine was launched last year through close cooperation with Mr Dean and many of his colleagues in line with Faculty aims. We have several enthusiastic students on our team as well.
Our communication procedures are helped by experts from the Faculty of Business and Economics, UP and we receive professional help from outside the university as well.
Free services for students:

Dietetics / Nutrition consultation…
if you think your diet is unbalanced,
if you feel something is not OK with your diet or,
if you know that you should to follow a special diet but you don't know how to start,
if you would like to lose or gain weight or,
if you feel you would just like to chat with an expert and get some encouragement.
Contact us here.
Consider physiotherapy consultation / physiotherapy sessions…
if you have muscle or joint symptoms, if you have problems with posture,
if it doesn't feel good to sit long hours and it causes discomfort or pain,
if you're planning to start workout after an injury but you're not sure how to begin,
if you want to learn special exercises,
if you would like to know how to protect your spine.
Consult our physiotherapist at yourlife@aok.pte.hu
Life coaching is for you …
if you are interested in how to improve your efficiency in different areas of life (studying, relationships, communication, work, creativity etc.),
if you feel you lack self-confidence,
if you feel you got stuck in some areas of your life,
if you would like to get to know yourself better,..
…ask for an appointment with our life coach at: yourlife@aok.pte.hu or keresnyei.krisztina@mypro.hu
YourLife and Covid

The Covid epidemic has caused and will continue to cause several changes in our lives. Nonetheless, we do believe that the current situation gives us the opportunity to re-evaluate several things in life and thus, we should strive to get the best out of it and of ourselves. We'll definitely need our creativity and resilience, two skills that can, in fact, facilitate and propel us towards change and renewal.
Due to the epidemic, our services and consultations have also been available online since spring 2020. Based on our experience, online consultations have been just as successful and effective as in-person sessions. Although we could not perform measurements and tests that would have required personal presence (e.g. assessment of physical status for physiotherapy), our colleagues have found solutions for these problems. In some cases, online situations may even prove beneficial as people tend to feel more relaxed and comfortable in their home environment which can result in more open discussions and can then facilitate progress. Consultations are usually via Skype or Teams, but we are open to taking individual preferences into consideration.
Our programmes are going to be organised according to the actual covid situation, consequently, if necessary, they will be arranged online e.g. the Sport and Health Day.
Our physiotherapist colleague will continue to offer trainings every week online as well – as in the spring semester – most probably via Facebook Live Stream.
Contact us if you're facing new challenges in these special times and we'll help you find solutions!
Contact us

You can contact us via Facebook or Instagram.
Through our website, by clicking on the yellow envelope you can send us advice and share your ideas anonymously as well – we welcome any suggestion that you think can help make your everyday university life better and can improve your physical and mental health.
You can apply for consultations at yourlife@aok.pte.hu.
You can come and see our colleagues in person at the Department of Public Health Medicine. (12.Szigeti str., Main Building, 3rd. floor, back staircase–we are hoping to move to the beautiful new campus building soon)