Stair running event at the university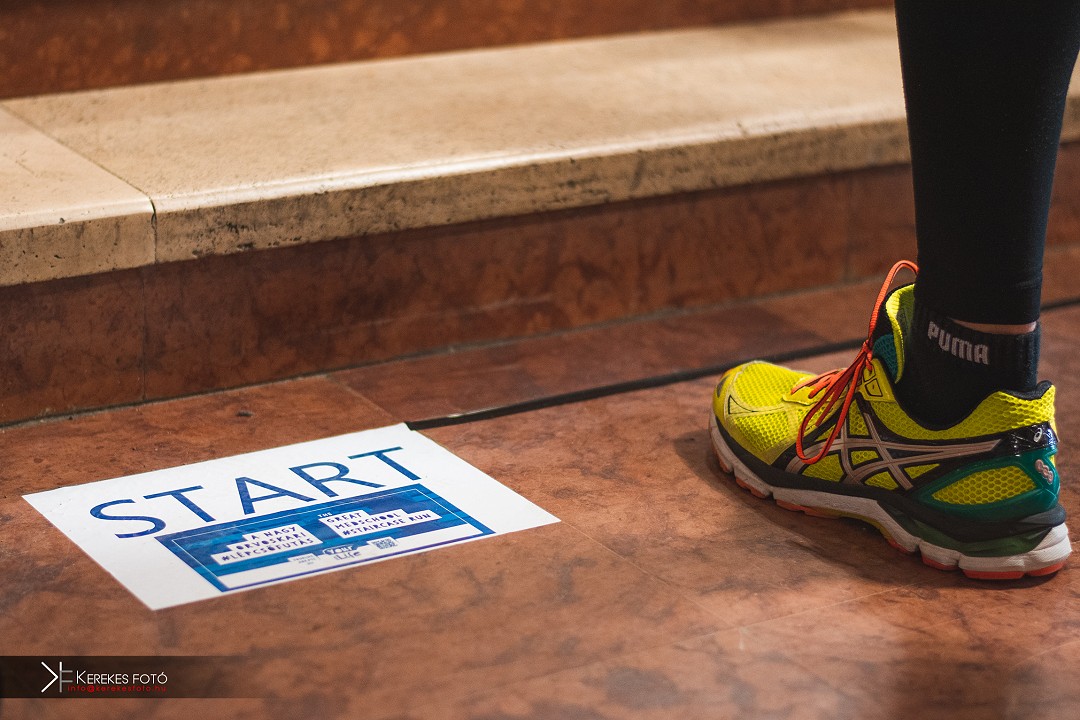 A simple daily routine evolved into a real sport event
The idea that stair climbing is an effective additional exercise that can easily be fitted into one's daily routine has become increasingly popular. All over the world, several public buildings have started to put up notices showing how many calories one could burn by climbing a given flight of stairs instead of taking the elevator on the way to the office. The University of Pécs has done more – this simple daily exercise was turned into a real sport event!
Minor changes in our everyday habits can actually turn the whole world into a gym if you walk to the shops instead of taking the car, if you walk the stairs at your workplace instead of taking the elevator for example. Although these may seem very little changes, they may contribute a lot to your health. If you happen to live on the fourth floor of a building that has no elevator you may often find it annoying that you have to use the stairs all the time and may not be aware of the actual benefits this extra daily exercise can provide you. You should rather think of the fact that according to health experts stair climbing builds cardiovascular fitness and every time you walk those stairs you actually burn more calories than you would by jogging. A survey has shown that using the stairs 7 minutes daily can measurably reduce the risk of getting a heart attack.
If you're looking for a cheap and effective form of exercise and your state of health doesn't contraindicate stair running, it can be an ideal workout.
It is of pivotal importance for our Faculty that it should provide a healthy work environment for students and staff alike. The health programme, initiated and organised by the Department of Public Health Medicine, was launched last year by the Dean's leadership with the aim to raise health awareness, to promote healthy eating habits and to develop and improve sport facilities. Our awareness raising campaign that advocates stair climbing instead of taking the elevator, is a part of the above initiative that we hope will encourage some of our students and staff to do a bit more exercise.
Running the stairs? Only if there's a goal!
Besides stickers and notices displayed at the elevators and landings, informing you about why you should choose the stairs instead of waiting for the elevator, highlighting all potential benefits, a joyful sport event has also contributed to highlighting the benefits of stair climbing and how easily it can be integrated into our daily exercising routine. This was the First Great Stair Running Event of the University of Pécs drawing more than 100 participants competing individually or in teams. Participants had to run up the stairs from the first to the fourth floor as fast as they could. Some were dressed up in various costumes and received prizes based on their creativity through open voting. You should bear in mind however, that stair running is not without its dangers, it is not suitable for everyone. At the above event, organisors paid special attention to the safety of competitors and a professional team of medical students was also there to provide help if needed and to cheer on those running up to the fourth floor. Let us hereby, congratulate the winners! As for losers, there were none, only the calories that you all got rid of.
Results: http://aok.pte.hu/hu/hirek/hir/12131.
Photos: https://yourlife.aok.pte.hu/gallery/album.php?s=a-nagy-orvoskari-lepcsofutas
Videos: https://www.youtube.com/watch?v=JSBBSuFLgAc
Let's give it a try!
SzG
Physiological effects of stair climbing
If you're interested in the numbers, according to latest research, by climbing stairs you can burn three times as much fat as you would by running, 7 times more than by taking the elevator and 9 times more than by sitting. Climbing up the stairs, you burn 3.95 calories per 10 steps, while walking down you only burn 2 calories. Apparently, calorie consumption largely depends on age, your bodyweight and sex. On average, with 60 minutes of active stair climbing you can burn approx.300-400 kcal. And a further advantage is that it also a great way to shape your body. Researchers at Harvard University have found that a 45-year of women of average build may even burn 80 plus calories daily by climbing up 5 floors which could add up to an annual 17 000 calories burnt extra. Should you need even more source for motivation, besides step calculators, applications are already available that can count your daily stair climbing. Furthermore, if you're concerned about the environment, you may also find it motivating that by decreasing the occasions you use the elevator you save electricity and consequently, the amount of CO released. Isn't it worth it?